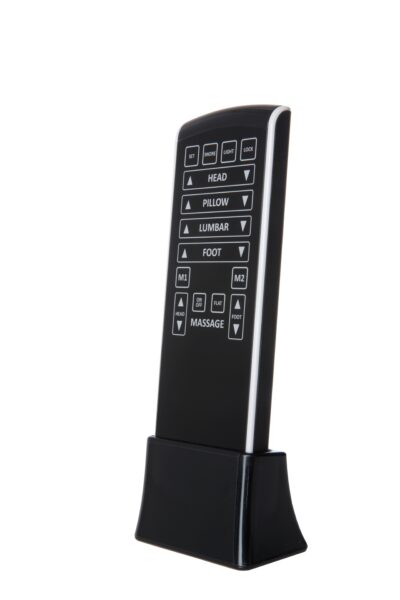 Experience comfort and relaxation like never before with the Prodigy Comfort Elite. Its four independent zones of adjustable comfort include independent pillow tilt and lumbar support to ensure you find the perfect comfort position best suited for you - whether you are reading, working, watching TV, or sleeping. Prodigy Comfort Elite features an easy-to-use, capacitive-touch remote and other advanced features can be found on its free mobile app for Apple and Android devices. Experience a well-deserved rest and wake restored, recharged, and ready for whatever life holds with the Prodigy Comfort Elite.
4"-Profile Base with Wallhugger® Technology
Keeps your nightstand within reach.
Head and Foot Articulation with Independent Pillow Tilt
Full-range adjustment provides ultimate comfort.
Lumbar Feature
Provides adjustable lumbar support for any mattress.
Capacitive-Touch Remote with Safety Lock Feature
This technologically advanced remote responds with perfect precision and includes a safety lock feature for peace of mind.
App Download for Apple and Android Devices
Advanced features like a sleep timer and gentle-wake alarm are included through the free app.
Full-Body Dual Massage with Wave
Rejuvenate after a long day with a relaxing head-to-toe massage that soothes your cares away.
Multiple Custom Programmable Positions
Store 2 of your favorite positions on the remote and 4 through the app for immediate personalized comfort.
Flat Button and Snore Button
Easily return the base to flat with the touch of a button, or program with press-and-hold for safety. Quickly elevate the head of the base 7° to open up airways.
Under-Bed Light
Under-bed lighting provides both ambience and functionality.
Adjustable Legs
Heavy-duty 2½"-diameter legs easily adjust from 6" to 10" for a perfect fit.
Power-Down
In the event power is lost, a battery backup returns the base to flat.
MicroHook™
Our exclusive mattress retention system eliminates the need for a mattress retainer bar – providing a sleeker, more modern look.
Sync Cable
Included with split sizes, the sync cable allows bases to raise and lower simultaneously
Queen: $1,650.00
Split King: $3,150.00